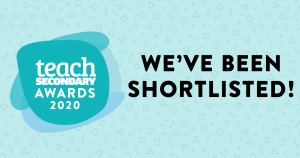 We are pleased to announce our online Dyslexia and Literacy CPD Programme has been shortlisted in the CPD category of the 2020 Teach Secondary Awards.
Our online short courses from our
CPD Programme
offer teaching professionals of all levels the chance to develop new and existing skills to support all of their students including those with dyslexia and other co-occurring difficulties.
The courses include:
Other modules focus on supporting adults with dyslexia and working with learners in an international setting.
We also offer a range of level 7 units for qualified specialist SpLD professionals to refresh and update their specialist literacy programme knowledge through online masterclasses.
Qualifications you can trust
The online CPD Programme units offered at levels 4, 5, and 7 with the option to combine units to achieve Awards, Certificates, and Diplomas which are approved and quality-assured by The CPD Standards Office.
What delegates think about our CPD Programme:
"The support offered here is excellent, the tutors are always available to help and I would highly recommend you study with Dyslexia Action"
"This is an excellent short CPD course for me and I have enjoyed every single minute of it. I am very pleased that the course run during the summer period, as this is the only time I can do any course to improve my skills. The tutors are very supportive."
"Excellent well structured and supported courses! Thank you!"
"The course provided a practical solution to CPD when other courses were impossible due to cost, time and location"
How can I find out more about your CPD Programme
Full details can be found in this brochure. Alternatively, please feel free to contact us or call us on +44(0) 1784 222304 if you have any questions.