DAAWD67 – This Level 4 Award in Supporting International Learners with Dyslexia course allows professionals to develop and enhance their current skills and understanding. Whilst studying Dyslexia Action CPD courses, participants will question what currently takes place in their classroom and will learn new theories and strategies. They will learn from their fellow professionals, will share their classroom experiences and discuss issues via the course forums.

Award in Supporting International Learners with Dyslexia (DAAWD67) consists of three Units.
Developing Reading Skills in Learners with Dyslexia (DACPD84) gives practitioners the knowledge to compare recent models of reading skills and to understand their relevance to readers with dyslexia who are learning English or other alphabetic languages. It examines the phonological, morphological and orthographic processes that underlie reading competence and explains why explicit, structured tuition can help build language awareness in learners with dyslexia. It also considers the difficulties that readers with dyslexia can face when accessing print
Developing Writing Skills in Learners with Dyslexia (DACPD85) designed to increase understanding of the processes involved in developing writing skills and to provide strategies for use in the classroom. Although the focus is on how to nurture the development of writing skills in learners with dyslexia, the approach will benefit a wide range of learners struggling to acquire effective writing skills
Dyslexia in Multilingual Settings (DACPD94) will explore the challenges presented when supporting multilingual learners with dyslexia. The learner's cultural context will be considered, together with the impact this has on learning and progress. The key components for supporting multilingual learners will be examined with a view to identify appropriate support strategies for multilingual learners with dyslexia.
These units are comprised of three study cycles, each of which includes a Study, Practice, Reflect, and Collaborate section. There are also associated practical tasks, with reference to current research and case studies.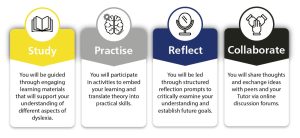 Is this course accredited?

\r\n
Our Level 4 and 5 CPD programme is approved by The CPD Standards Office and you receive a certificate from Dyslexia Action upon completion.
How is the programme delivered?
The courses are delivered online which offers you the flexibility to organise your time to fit around your professional and personal commitments. It also saves you the time and expense of travel and classroom attendance
Total study time per unit is 3 – 5 hrs a week, 20 – 30 hours total study over a 7 week period per unit*
Tutor support is offered throughout the duration of the induction and course
Our units equate to Level 4 or 5 on the Register of Regulated Qualifications (RQF).
*e.g. if the participant registers to study for the first of three Units in July, they can then study Unit 2 in September and Unit 3 in November.
Applicants should:
Participants should normally be employed as a:
Qualified classroom teachers or teaching or learning assistants with at least one year of recent and relevant teaching or learning support experience in a dyslexia/literacy support setting in the UK or internationally
Please note: We reserve the right to request information in support of all applications from a headteacher or other suitably qualified line manager or referee.
CPD Progression - is this Award part of a Certificate or Diploma qualification?
This Award in Supporting International Learners with Dyslexia DAAWD67) is part of a wider CPD programme which offers the opportunity to choose from a range of study options:
---
Level 5 Diploma in Specialist Teaching for Literacy-Related Difficulties (DIST)
If you would like to train to become a full specialist SpLD teacher/practitioner, you may be in a position to enrol in the following teacher/practitioner certificate course:
The Level 5 Diploma (DIST) confers eligibility for Associate Membership of The Dyslexia Guild (ADG) recognised as the first grade of professional membership for a specialist teacher/practitioner and approved by The CPD Standards Office. The Level 5 Diploma is also accredited by the British Dyslexia Association for Approved Teacher Status or Approved Practitioner Status (ATS/APS) and PATOSS for Associate membership.
Do you hold a degree?
As an alternative to the pathway routes, we offer a Level 5 Graduate Route: this route is only available for graduates with at least two years of recent and relevant teaching or learning support experience in a dyslexia/literacy support setting and takes one calendar year to complete. More details can be found here.
Pay online by debit/credit card at the time of registration £855+VAT (making a saving of £10 per unit if booking three units individually)
Pay later £880+VAT (this price includes an additional fee of £25+VAT for those choosing not to pay online at time of registration. All monies must be received before the start of the course, the pay later option is only available up to 2 weeks before the start of the course)
Our courses run six times a year in September, November, January, March, May and July. Please click on the date below to make a booking for the Award containing three units (click here to book the units individually).
17 January 2024
Book by 3 January (if pay later/invoice required upfront) or book by 10 January if paying by credit/debit card at time of registration
13 March 2024
Book by 28 February (if pay later/invoice required upfront) or book by 6 March if paying by credit/debit card at time of registration
8 May 2024
Book by 24 April (if pay later/invoice required upfront) or book by 1 May if paying by credit/debit card at time of registration
10 July 2024 – bookings open in the New Year