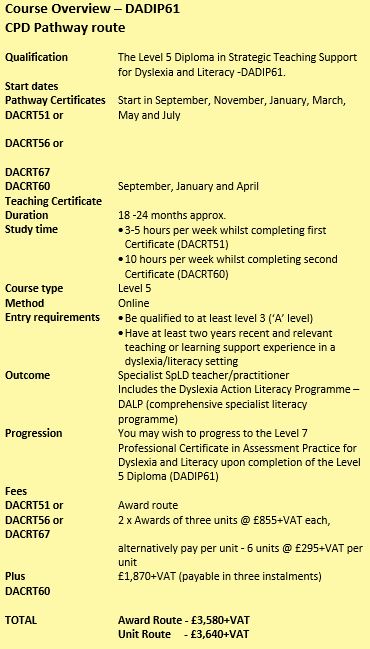 Discover the programme in more depth
Who is the Level 5 Diploma Fast Track Route for?
Applicants may wish to choose one of the three CPD Pathway Routes if they:
Are teachers, SEN(D)/SENCo staff, teaching assistants, learning support staff, tutors, lecturers, language therapists, and practitioners qualified to at least Level 3 on the UK qualifications framework who are currently (or recently within the last 2 years) employed to work with learners in a dyslexia/literacy setting
Wish to qualify as a Specialist SpLD Teacher/Practitioner and have access to the unique resources provided by the Dyslexia Action Literacy Programme (DALP)
Have a few hours a week to commit to studying but not more than 10 hours per week
Do not have the available time or resource to undertake demanding Level 7 study
If you hold a degree you may be interested in our Level 5 Diploma in Strategic Teaching Support for Dyslexia and Literacy (DADIP61).
The Level 5 Diploma CPD Pathway route
Supervised teaching is an essential part of the third unit in the Level 5 Certificate in Strategic Teaching Support for Dyslexia and Literacy (DACRT60). Further details can be found in the brochure above.
Once you have completed the The Level 5 Diploma in Strategic Teaching Support for Dyslexia and Literacy (DADIP61) you will be a specialist SpLD teacher/practitioner
Upon completion of the Level 5 SpLD Diploma you may be considered for direct entry onto our Professional Certificate in Assessment Practice for Dyslexia and Literacy Modules Bridge, B, D & E (60 credits)
Part one:
Please note you cannot book these certificates outright, you either select to pay for the content of 6 units individually priced at £295+VAT each or book 2 awards (each containing 3 set units) at £855+VAT each.
plus
Part two:
£1,870+VAT, pay in three instalments.
All monies must be received before the start of the course.
Please note:
You can opt to study either:
one of the Level 5 Diploma routes or
the Level 7 Certificate route if you meet the Level 7 Certificate entry requirements (you do not have to complete the Level 5 Teaching Diploma before moving to Level 7 Teaching Certificate, and can commit 20 hours study per week over 12 months
The Level 5 Diploma (DADIP61) confers eligibility for Associate Membership (ADG) of The Dyslexia Guild recognised as the first grade of professional membership for a specialist teacher/practitioner.
The Level 5 Diploma is also accredited by the British Dyslexia Association for Approved Teacher Status or Approved Practitioner Status (ATS/APS) and approved by The CPD Standards Office.