Are you looking to train to become a specialist teacher/practitioner or teacher/practitioner- assessor in specific learning difficulties (SpLD)? Then our newly restructured, MEd Dyslexia Action Literacy Programme (DALP) is ideal for you!
There has recently been a huge interest in developing skills to be able to support and assess learners with SpLD and literacy difficulties both across the UK and overseas. Over the past few months, our highly skilled education support team has worked extensively to restructure our level 7 postgraduate programme. We are delighted to announce the launch of The Master of Education Professional Practice in Dyslexia and Literacy and its related programmes.
The Dyslexia Action MEd Professional Practice in Dyslexia and Literacy is a unique and prestigious programme at Master's Level 7. It provides training for qualified teachers to become informed practitioners, specialist teachers and/or teacher assessors.
The programme is modular, flexible and is undertaken part-time, through online learning. Access is available 24/7 to the Virtual Learning Environment (VLE) and all modules are tutor-supported through online learning and forums.
This online distance learning programme was developed and is delivered and assessed, by Dyslexia Action Training (part of the Real Group). Dyslexia Action is the leading provider of accredited training and we have successfully delivered more than 15,000 courses to education professionals since 2010 and many more since we were first established in 1972.
Structure of the MEd Dyslexia Action Literacy Programme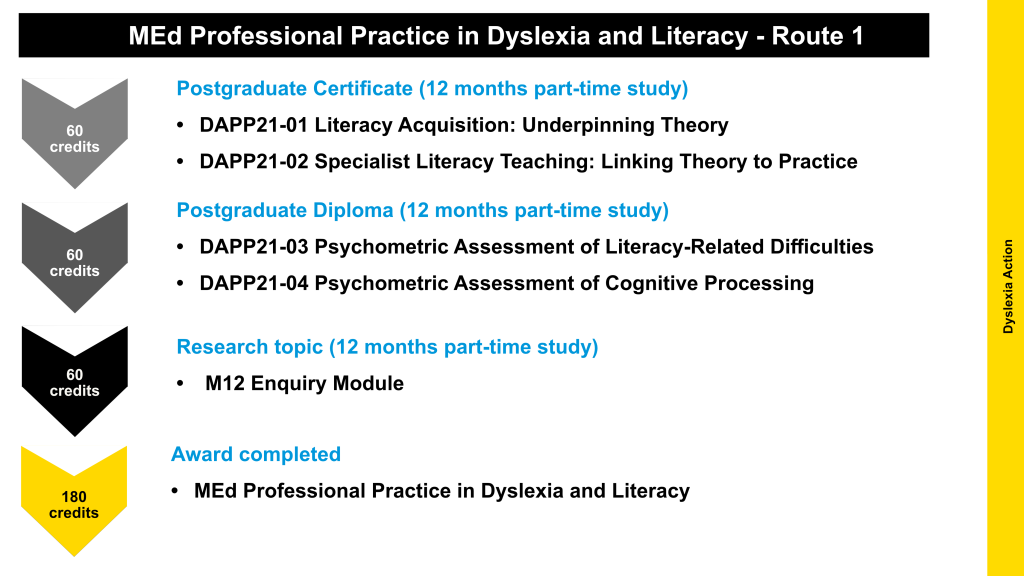 Or the following route can be chosen
Accreditation
The MEd is also awarded and quality assured by Middlesex University. The Postgraduate Certificate and Diploma programmes are also recognised by several professional SpLD membership bodies for accredited specialist teacher/practitioner/assessor status (subject to approval).
How is the programme delivered?
The MEd Professional Practice programmes use the VLE Moodle and will allow candidates to benefit from expert tutor support through forums and connect with their peers.
Learn whilst you study, with our practice-led approach helping embed your new theoretical knowledge in your real-world circumstances. Some of the six-month modules may also require you to be involved in practical teaching and assessment whilst others are more theoretically based.
The core curriculum is delivered by means of a range of e-learning resources. These include presentations, articles, exercises, videos and follow-up activities and tasks for participants to carry out at intervals.
There is no attendance required for this course or expectations to be online at specific times for 'live' learning. This gives candidates the flexibility to organise their study time around professional and personal commitments.
Other benefits
Exclusive access to the Dyslexia Action Literacy Programme (DALP), a comprehensive specialist literacy programme for SpLD Specialist Teachers. DALP provides a pathway for learners with literacy difficulties of all ages, through individual placement identification
Candidates will automatically become student members of The Dyslexia Guild for the first year of their course while they are actively studying on a Professional Certificate or Diploma Programme with Dyslexia Action.
Are you eligible?
Brief summary of entry requirements
For graduates holding a degree qualification who are looking to obtain University credits.

Currently employed (or very recently, within the last two/three years) in a school or college setting to work with learners with literacy difficulties/dyslexia/SpLD in the UK or overseas.

Commit to 20 hours of study per week, per module.

Excellent spoken and written English.

IELTS 7 for applicants with English as a Second Language
You can find details of the postgraduate level programmes here, with further details on eligibility, demands of the course, fees and a detailed syllabus brochure. Those not accepted onto the level 7 programme, may be offered an alternative route through our Level 5 programme.
Once you have viewed the programme information through our website, and if you have further questions, please contact trainingcourses@dyslexiaaction.org.uk
Register Today
Start Dates. Each six-month learning semester will run twice a year, starting in April and October, registration is currently open for our cohort in April 2022.
Please note: Places are limited to 20 spaces for the April 2022 cohort so please apply as soon as possible, details are below.
How to register for the programme
Step 1: Visit our website and select the route you wish to study. Ensure you read all the information provided before applying.
Step 2: Download, complete and save the Application Form and entry essay.
Step 3: Upload your completed application form, degree certificate and ID document to the relevant registration area on the selected programme page.
Once your initial application has been accepted it will be reviewed by the postgraduate administration team. Once you are offered a place on the course you will be emailed with further details of how to register online for your first module and make your payment.
Once you have viewed the programme information through our website, and if you have further questions, please contact trainingcourses@dyslexiaaction.org.uk.