DAAWD51 – This Level 4 Award in Perspectives on Dyslexia course provides a solid, theoretical and practical grounding for practitioners in a wide range of settings who work with learners with dyslexia. Studying these closely related units of the Award in Perspectives on Dyslexia will give you the opportunity to gain knowledge of the characteristics of dyslexia, how to support specific weaknesses commonly associated with dyslexia and an understanding of the key principles that underpin specialist teaching.

The Award in Perspectives on Dyslexia (DAAWD51) consists of three Units.
Dyslexia and Co-occurring Difficulties (DACPD51) provides an introduction to key elements of current research and practice in dyslexia, and conditions that commonly co-occur with it. It aims to provide an understanding of current theories of dyslexia and the impact that dyslexia and co-occurring difficulties have on performance in a range of settings.
Supporting Individuals with Memory Weaknesses (DACPD52) explores some of the different aspects of memory and aims to promote an understanding of the barriers that working memory weaknesses can create within learning environments. It introduces a more analytical approach to teaching, providing practitioners with the opportunity to reflect upon their own practice and to consider how it can be tailored to strategically support learners with dyslexia and working memory weakness.
Structured, Cumulative Multisensory Tuition for Learners with Dyslexia (DACPD53) introduces the practitioner to the concepts of structured, cumulative, multisensory learning. The links between attention, memory and multisensory input are explained, and the need for structured, explicit intervention is examined. Completion of the Unit will enable the practitioner to design lessons that maximise learning potential.
These units are comprised of three study cycles, each of which includes a Study, Practice, Reflect, and Collaborate section. There are also associated practical tasks, with reference to current research and case studies.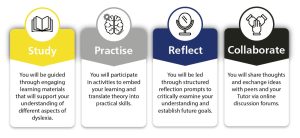 Is this course accredited?

\r\n
Our Level 4 and 5 CPD programme is approved by The CPD Standards Office and you receive a certificate from Dyslexia Action upon completion.
How is the programme delivered?
The courses are delivered online which offers you the flexibility to organise your time to fit around your professional and personal commitments. It also saves you the time and expense of travel and classroom attendance
Total study time per unit is 3 – 5 hrs a week, 20 – 30 hours total study over a 7 week period per unit*
Tutor support is offered throughout the duration of the induction and course
Our units equate to Level 4 or 5 on the Register of Regulated Qualifications (RQF).
*e.g. if the participant registers to study for the first of three Units in July, they can then study Unit 2 in September and Unit 3 in November.
Applicants should:
Participants should normally be employed as a:
Qualified classroom teachers or teaching or learning assistants with at least one year of recent and relevant teaching or learning support experience in a dyslexia/literacy support setting in the UK or internationally
Please note: We reserve the right to request information in support of all applications from a headteacher or other suitably qualified line manager or referee.
CPD Progression - is this Award part of a Certificate or Diploma qualification?
This Award in Perspectives on Dyslexia (DAAWD51) is part of a wider CPD programme that offers the opportunity to choose from a range of study options.
---
Level 5 Diploma in Specialist Teaching for Literacy-Related Difficulties (DIST)
If you would like to train to become a full specialist SpLD teacher/practitioner, you may be in a position to enrol in the following teacher/practitioner certificate course:
The Level 5 Diploma (DIST) confers eligibility for Associate Membership of The Dyslexia Guild (ADG) recognised as the first grade of professional membership for a specialist teacher/practitioner and approved by The CPD Standards Office. The Level 5 Diploma is also accredited by the British Dyslexia Association for Approved Teacher Status or Approved Practitioner Status (ATS/APS) and PATOSS for Associate membership.
Do you hold a degree?
As an alternative to the pathway routes, we offer a Level 5 Graduate Route: this route is only available for graduates with at least two years of recent and relevant teaching or learning support experience in a dyslexia/literacy support setting and takes one calendar year to complete. More details can be found here.
Pay online by debit/credit card at the time of registration £855+VAT (making a saving of £10 per unit if booking three units individually)
Pay later £880+VAT (this price includes an additional fee of £25+VAT for those choosing not to pay online at time of registration. All monies must be received before the start of the course, the pay later option is only available up to 2 weeks before the start of the course)
Our courses run six times a year in September, November, January, March, May and July. Please click on the date below to make a booking for the Award containing three units (click here to book the units individually).
17 January 2024
Book by 3 January (if pay later/invoice required upfront) or book by 10 January if paying by credit/debit card at time of registration
13 March 2024
Book by 28 February (if pay later/invoice required upfront) or book by 6 March if paying by credit/debit card at time of registration
8 May 2024
Book by 24 April (if pay later/invoice required upfront) or book by 1 May if paying by credit/debit card at time of registration
10 July 2024 – bookings open in the New Year