.
Special offer

– £10 discount for CPD Unit courses starting 13 July 2022! Discount applied automatically at checkout.
What our delegates say about this course
"Thank you for another informative course that really makes me reflect about what I can do better to better support pupils with dyslexia and also create stronger links when learning to read even with children that don't find it as challenging!"
SS
"I have enjoyed the module and have found the materials provided both interesting and informative"
MM
"Thank you for the help and support from tutors and other learners. Although at times I have found it challenging, I have been able to use what I have learnt and put this into practice with my students"
JA
"This course was very informative and well presented. Excellent support from tutor with quick and helpful responses. This has been my first experience with Dyslexia Action and I intend to study further from here."
Thank you
Why take this short course?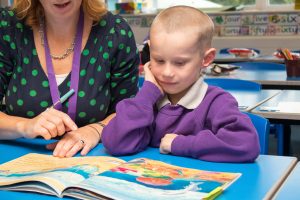 DACPD84 – This Level 4 unit gives practitioners the knowledge to compare recent models of reading skills and to understand their relevance to readers with dyslexia who are learning English or other alphabetic languages. It examines the phonological, morphological and orthographic processes that underlie reading competence and explains why explicit, structured tuition can help build language awareness in learners with dyslexia. It also considers the difficulties that readers with dyslexia can face when accessing print.
Is this course accredited?
Our Level 4 and 5 CPD programme is approved by The CPD Standards Office and you receive a certificate from Dyslexia Action upon completion.
How is the course delivered?
The Developing Reading Skills in Learners with Dyslexia course is delivered entirely online which offers you the flexibility to organise your time to fit around your professional and personal commitments. It also saves you the time and expense of travel and classroom attendance

Tutor support is offered throughout the duration of the course

This Level 4 course is mapped against the Ofqual Level Descriptors (15/5774)
Applicants should:
Participants should normally be employed as a:
Please note: We reserve the right to request information in support of all applications from a headteacher or other suitably qualified line manager or referee.
How long does it take to complete the course?
Total study time is 3 hrs a week. This equates to 20 hours of total study over a 7 week period.

There are set start and assignment submission dates that must be adhered to, each course has an assignment portfolio for participants to work through which allows you to extract the key points of the course materials without having to write extensive answers. The portfolio contains different exercises consisting of short answers, filling in tables and writing personal responses or reflections. You will also be required to contribute to the online forums on a weekly basis.
Book DACPD84 as a stand-alone CPD unit
Study the Level 4 Developing Reading Skills in Learners with Dyslexia (DACPD84) an individual Level 4 CPD course to enhance your skills in a particular area.
Single CPD Unit Cost – £295 + VAT
To book DACPD84, please visit our online booking page and select the date you wish to start.
Please note bookings close 2 weeks before the start date.
---
Book DACPD84 as a part of an Award
Awards contain three-set CPD Units. By booking an Award you will save a total of £30 as opposed to booking the units individually.
For more information on the Award that this unit is included in please visit the following page:
Award Cost – £855 + VAT
Please note: When an Award is booked, participants will study the first unit on the Award start date, the second and third unit will follow in date succession. All three individual units must be completed within a one-year period.
To book DAAWD52 or DAAWD67, please visit our online booking page and select the date you wish to start.
Please note bookings close 2 weeks before the start date.
---
Is the Developing Reading Skills in Learners with Dyslexia CPD unit part of a Certificate?
The Developing Reading Skills in Learners with Dyslexia Unit is included in the following certificates.
Please note: Certificates can be completed if you book six set individual units or two set Awards.
---
Level 5 Diploma in Strategic Teaching Support for Dyslexia and Literacy (DADIP61)
If you would like to train to become a full specialist SpLD teacher/practitioner and hold either:
The Certificate in Supporting Literacy in Learners with Dyslexia (DACRT51)
The Certificate in Supporting International Learners with Dyslexia (DACRT67)
You may be in a position to enrol in the following teacher/practitioner certificate course:
Successful completion of either DACRT51 or DACRT67 plus DACRT60 will give you:
The Level 5 Diploma (DADIP61) confers eligibility for Associate Membership of The Dyslexia Guild (ADG) recognised as the first grade of professional membership for a specialist teacher/practitioner and approved by The CPD Standards Office. The Level 5 Diploma is also accredited by the British Dyslexia Association for Approved Teacher Status or Approved Practitioner Status (ATS/APS) and PATOSS for Associate membership.
Do you hold a degree?
As an alternative to the pathway routes, we offer a Level 5 Fast Track Route: this route is only available for graduates with at least two years of recent and relevant teaching or learning support experience in a dyslexia/literacy support setting and takes one calendar year to complete. More details can be found here.
Level 4 and 5 CPD Short Courses for teaching professionals at all levels run six times a year with start dates in September, November, January, March, May and July. Our next available dates for 2022 are:
13 July 2022
14 September 2022
Interested in one for those dates? Please complete an online booking form here.
Please note: as it takes time to process your application and payment, we strongly recommend registering as soon as possible, so that you don't miss the next intake.