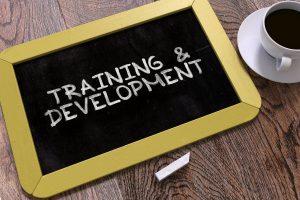 The Dyslexia Action Continuing Professional Development (CPD) Programme provides the opportunity for education professionals to improve their knowledge and skills in supporting learners with dyslexia, literacy and specific learning difficulties (SpLDs).
Our CPD short courses are accredited, which means the learning activities have reached the required standards and benchmarks of an accredited body. The learning value has been scrutinised to ensure integrity and quality. By undertaking accredited CPD training, educators are given the opportunity to ensure their qualifications, and therefore their skills and knowledge, are maintained and up to date.
The CPD Short Courses include dyslexia and co-occurring difficulties, memory weaknesses, structured, cumulative multisensory tuition, study skills and assistive technologies to name a few. Many of our level 4 and 5 units focus on how to nurture the development of school learners with dyslexia with regard to key skills, such as reading, writing, spelling and numeracy. Other modules focus on supporting adults with dyslexia and working with learners in an international setting. We also offer a range of level 7 units for qualified specialist SpLD professionals to refresh and update their specialist literacy programme knowledge through online masterclasses.
Five reasons to study with Dyslexia Action
Our practice-led

programmes are

tailored to primary/secondary school learners or those working with adults

A variety of different courses to choose from, offering

20 – 30 hours

online learning, completed within

7 weeks

, allowing you to add

real value to your educational setting

Complete your work on

Campus Online

, our unique virtual learning environment

Work at a pace to suit you and your schedule (online learning with

no live sessions

) as you

develop your practical competence and personal confidence

Tutor and peer support available through online forums
Who are the courses for?
A wide range of professional teachers, practitioners and specialists can benefit from our CPD Courses. Delegates are usually:
Qualified teachers at all key stages

Special educational needs teachers and coordinators (SENCOs)

Teaching and Learning Support assistants

Tutors and support staff in Further and Higher Education and other adult educational settings
Is practical work with a learner required
The Level 4 and Level 5 CPD Units and Award courses do not require any practical work with a learner or group of learners.
Start dates
Level 4 and 5 CPD Short Courses for teaching professionals at all levels run six times a year with start dates in September, November, January, March, May and July. Our next available for 2023/2024 are:
13 September 2023
15 November 2023
17 January 2024
13 March 2024
8 May 2024

Testimonials
"The support offered here is excellent, the tutors are always available to help and I would highly recommend you study with Dyslexia Action"
"This is an excellent short CPD course for me and I have enjoyed every single minute of it. I am very pleased that the course run during the summer period, as this is the only time I can do any course to improve my skills. The tutors are very supportive."
"Excellent well structured and supported courses! Thank you!"
"The course provided a practical solution to CPD when other courses were impossible due to cost, time and location"