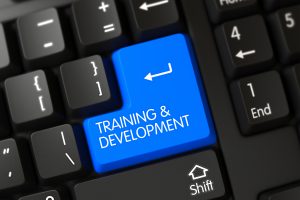 Dyslexia Action Training and Professional Development is an accredited national training provider of courses designed and delivered to support professionals working with individuals with dyslexia and specific learning difficulties. Our training courses are designed to strengthen the expertise and confidence of teachers, teaching assistants, SENCos, instructors, tutors, lecturers and learning support staff.
Our courses are offered online to enable practitioners to access materials and tutor support through Moodle our Virtual Learning Environment (VLE). Our online tutors are highly qualified specialist teachers, assessors, and psychologists who have a depth of knowledge and experience in dyslexia and SpLD. Our courses are accredited by the British Accreditation Council (BAC), the CPD Standards Office for our short courses, and Middlesex University for our postgraduate, professional programmes.
Dyslexia Action Training has been delivering programmes in dyslexia/SpLD for over 40 years and has an established professional partnership with the Dyslexia Guild, the professional membership organisation for specialist teachers and assessors, and the Dyslexia Action Shop, a one-stop shop for all your specialist tuition and assessment needs.
---
What our delegates say about us
"I have really enjoyed the course. I have found the reading really stimulating, interesting and informative. I feel like I have learned a lot and it has helped me understand and empathise much more with the challenges adults with dyslexia face. I now feel much more equipped and enabled to support my students with the development of their study skills to enable independence and metacognition."
M.B.
"I have found the course invaluable in developing my tutoring skills and interaction with my students. It's been great to be able to say I'm working towards a deadline too when they've got essay deadlines looming, and we could then share strategies and approaches for organisation etc. I particularly enjoyed designing the structural activity and discussing it with students. It also helped to focus my wider reading and to research different aspects that I may not have previously considered."
C.W.D
"Although doing this course has been quite a learning curve and more time consuming than I initially envisaged, I am so glad to have done it!"
K.G.
"Thank you for such an illuminating and stimulating unit. You have encouraged us to engage fully with the challenge of developing writing skills in dyslexic learners, and I have found a number of very useful techniques which I am looking forward to using with my students. I also enjoyed interacting with the Unit Forum which was a compulsory element in this run of courses: a good thing as it makes the interactive aspect of the course come alive much more! The assignment also made me think about how to improve my practice."
N.M.
---