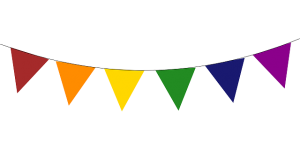 2021
Winner – Teach Primary Awards 2021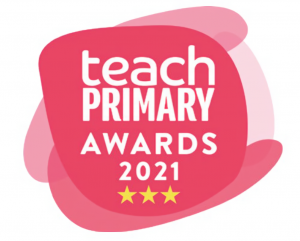 We are excited to announce our online Level 5 CPD course The Emotionally Connected Classroom won three stars in the CPD category of The 2021 Teach Primary Awards.
We know that there has been an increased focus on mental health and wellbeing in schools during the recent pandemic and a need for teaching professionals to help support children struggling in this area. Last year, we released a new short CPD course to allow educators to enhance their skills and develop a better understanding of Social, Emotional and Mental Health (SEMH). It is suitable for teaching support roles, as well as teachers, SENCOs and other SEND professionals who you would like to enhance their knowledge to help support learners with social, emotional and mental health needs by learning to:
Understand the impact of stress and trauma on the brain
Discuss pupils' emotions and the impact this can have on their behaviour
Identify ideas for developing relational based practice in your provision
Apply strategies to build pupils resources and resilience to manage their emotions
Here is what one of the Teach Primary Awards judges from Teacher Development Trust said:
"A specialist Level 5 CPD programme, this online training is in-depth and rigorously designed to develop practitioners' SEMH skills in a range of settings. Participants can flexibly access course content and collaborative discussion forums around their in-school commitments."
Unique benefits of studying with Dyslexia Action
Dyslexia Action is an established online specialist education training provider. When studying us, we offer participants the flexibility to organise their study time around professional and personal commitments. Other benefits include:
Access to a custom-built VLE

platform

Campus Online

to complete the course

Expert tutor support and access to forums online to provide guidance and allow participants to share best practices with peers
What our delegates said about this course
"This course has certainly helped me cultivate a desire to better understand how I can connect with the students I work with. This includes helping them better understand themselves, and how their brain works in controlling (or not controlling) their emotions, behaviours, and actions effectively."

"I have absolutely loved this course – it was exactly what I felt was missing from my 'toolkit' and now I can make sure that the impact is shared more widely in my new setting for the benefit of the children we serve. Thank you."
Special offer
To celebrate the win, we are offering a 10% discount for those applying for The Emotionally Connected Classroom Level 5 online course for our November, January and March cohort! Apply here and use code 10OFFSEMH.
2020
Winner – Teach Secondary Awards 2020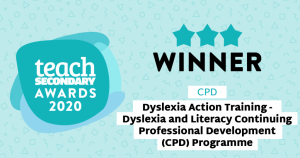 We are excited to announce our online Dyslexia and Literacy CPD Programme has been named the 3-star winner in the CPD category of the 2020 Teach Secondary Awards.
This flexible CPD programme offers the opportunity to choose from a range of study options:
Units – Enhance your skills in a particular area with just one Level 4 or 5 CPD Unit.
Awards – Combine three CPD Units to achieve an Award.
Certificates – Combine two Awards (six CPD Units) to achieve a Certificate.
Diploma – Study one of our CPD Pathway Certificates or The Level 5 Award in Focal Points for Literacy alongside The Level 5 Certificate in Strategic Teaching Support for Dyslexia and Literacy to achieve The Level 5 Diploma in Strategic Teaching Support for Dyslexia and Literacy (DADIP61).
"This specialist online training is comprehensive, flexible, and suited to educators across all settings. Although focused on dyslexia support and building literacy, the theory and practical skills encourage good pedagogical practice which should benefit all learners. The use of one-to-one guidance from tutors, and the inclusion of collective contributions so that participants are able to learn from peers, provide opportunities to meet individual needs targeted to specific educational contexts." J Berry
2019
Finalist – Teach Secondary Awards 2019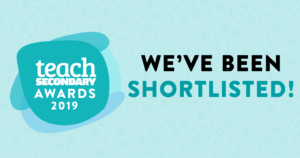 Dyslexia and Literacy CPD Programme was a finalist in the CPD category of the 2019 Teach Secondary Awards. Our online short courses from our CPD Programme offer teaching professionals of all levels the chance to develop new and existing skills to support all of their students including those with dyslexia and other co-occurring difficulties.