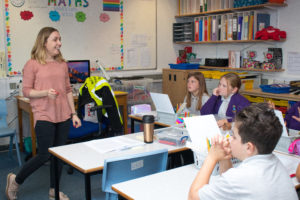 Dyslexia Action Training is pleased to announce the release of our level 5 Diploma in Strategic Teaching Support for Dyslexia and Literacy (DADIP61) Fast Track Route to becoming an SpLD qualified teacher/assessor.
The Level 5 SpLD Fast Track Route is now available for graduates who cannot commit to 20 hours a week study time which is required on the Level 7 route.
This Fast Track Route will start in January 2020. It is only available to those who hold a degree or foundation degree plus a minimum of two years recent and relevant teacher/practitioner experience within an educational establishment
The Level 5 Diploma Fast Track Route programme consists of:
Focal Points for Literacy (DAAWD80)
Total completion of the Level 5 SpLD Fast Track Route would be one calendar year.
The level 5 Diploma course provides an introduction to a unique structured specialist teaching programme, the Dyslexia Action Literacy Programme (DALP) that can be used in school or college settings or with individuals of any reading age in private practice.
The Award in Focal Points for Literacy (DAAWD80) starting date is 6 January 2020. If you are keen to register, you can book a place today. The deadline to join this course is 22 November 2019.
If you do not hold a degree you may be interested in our Pathway route to gain the level 5 Diploma refer to our primary/secondary, adult and international CPD pathways.
The Level 5 Diploma (DADIP61) confers eligibility for Associate Membership of The Dyslexia Guild (ADG) recognised as the first grade of professional membership for a specialist teacher/practitioner.
The Level 5 Diploma is also accredited by the British Dyslexia Association for Approved Teacher Status or Approved Practitioner Status (ATS/APS) and approved by The CPD Standards Office.