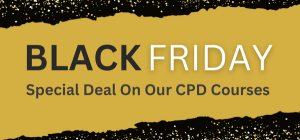 Our Black Friday Sale is now live!
Are you planning to book CPD for the New Year?
We are excited to share our limited time discount when you book a CPD course for our 18 January 2023 cohort.
You will save £10+VAT per course, but be quick! Offer ends Sunday 11 December ay 11.59pm*.
Discount is automatically applied at registration, so no code is required.
Click below to find out more:
Which Courses Are Eligible For The Discount?
The discount will apply to the following courses for the 18 January 2023 Cohort:
The discount will be automatically applied at registration
This offer has now come to an end