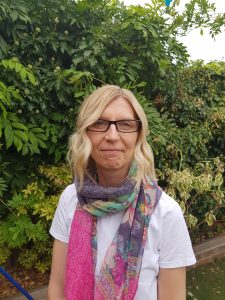 To mark the 50th anniversary of Dyslexia Action, we were delighted to announce the launch of the Kathleen Hickey Teaching Scholarship.
Named after one of our founders, the Kathleen Teaching Hickey Scholarship was created to offer one place on our Level 5 Diploma in Specialist Teaching for Literacy-Related Difficulties. The Level 5 Diploma trains teachers, teaching assistants and support tutors to become qualified specialist teachers or practitioners. This allows them to make a difference in the lives of learners with dyslexia and other SpLDs. We were absolutely delighted to receive numerous applications. Thank you to everyone that applied, after a long decision-making process, the scholarship was awarded to Melissa Whitley!
Melissa Whitley has taught children with literacy difficulties for many years. We caught up with Melissa to find out more about what winning the Kathleen Hickey Teaching Scholarship meant to her!
What made you interested in applying for the scholarship?
I have taught children with literacy difficulties for many years. I'm very lucky, it's a wonderful way to spend my day. Over the years I've found myself becoming fascinated with how children learn to read and why some seem to grasp it effortlessly while others struggle. Teaching a systematic phonic scheme is effective for the majority of children I teach, but for others I sometimes question whether I've done enough and whether a different approach would have suited them better.
While researching literacy problems, it became apparent that there is a lack of specialist training for teachers within schools and frustrated parents were at a loss with how to help their children. With this in mind I've been determined to find out more. It really saddens me to hear about adults who have struggled through school, not realising that their problems were due to dyslexia and probably could have been helped with a better understanding of how to teach them.
As for funding a Level 5 Course is out of my reach at the minute, I have only been able to complete some basic training. When I discovered there was the possibility of a Scholarship I jumped at the chance, my fingers have never moved so fast across a keyboard.
How did you find the Application process?
For me, the application took little effort, it's very easy to write about something you feel so passionate about. So then I waited, with everything crossed, I'd no idea whether I was even in with a chance.
How did it feel to win the Kathleen Hickey Teaching Scholarship?
When the email came through from Anna Smith I just couldn't believe it! I was over the moon and had a little dance round the kitchen.
What are you looking forward to about the course?
I'm so thankful to be given this opportunity. I'm hoping that by completing this course I can help children fulfil their potential, improve their life chances and ultimately their happiness.
Thank you, Melissa, we wish you luck and every success on the course!