We are excited to announce the migration of the Dyslexia Action CPD courses onto Campus Online, our new virtual learning platform.
Campus Online has been developed in collaboration with educational psychologists and technology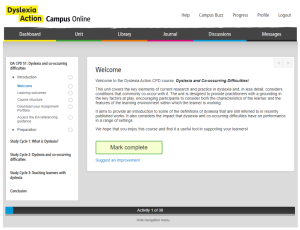 experts, and features innovative tools and resources to enhance the learning experience. It provides a digital environment where tutors and learners can interact with each other, access learning materials, participate in group discussions, and engage in a variety of online learning activities such as quizzes, assignments, and assessments.
This platform is specifically designed to make the experience of learning rewarding and collaborative, and can be accessed from anywhere with an internet connection.

Dr Mark Turner, Managing Director and Educational Psychologist said "We are pleased to now be able to deliver our CPD units on our Campus Online platform. We've been developing the courses to be an engaging and accessible learning experience for delegates. I'm proud of how our CPD courses help delegates develop essential skills and knowledge which allow them make a real difference in their setting."
For more information about Campus Online and how it can be used, please visit our information page here.