CPD Short Courses for teaching professionals at all levels
We have a special CPD summer offer on a selection of short courses starting 13 July 2022. These online courses are suitable for qualified classroom teachers, teaching/learning assistants, study skills tutors and those working overseas. The courses are delivered entirely online and do not require access to a student or learner, so would be perfect to complete over the summer break.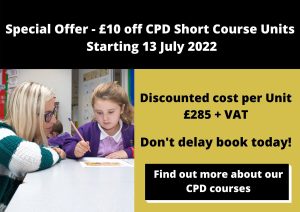 Our courses focus on nurturing the development of learners within the classroom/learning environment both with and without specific learning difficulties. Tutor support is given throughout the duration of the course.
Structured CPD gives employees a clear path to success within their current role and progression to future ones. Employees in regulated industries (e.g., healthcare, education, assessment) can lose their licence to practice if they don't maintain their CPD.
Usual cost per unit £295 + VAT
Special offer cost per unit £285 + VAT – July 2022 start date only.
Nurture the development of school learners with dyslexia and specific learning difficulties (SpLDs)
CPD suitable for Primary/Secondary include:
*Swap out this spelling unit for Dyslexia in Multilingual Settings if you are working overseas

CPD suitable for those Supporting Adults and working in Study Skills in FE/HE include:
Building relationships dyslexia and beyond
The Emotionally Connected Classroom CPD Short Course
The Emotionally Connected Classroom Level 5 online course introduces how relationships and connections can be developed in a classroom environment to help support pupils with Social, Emotional and Mental Health (SEMH) needs.
By completing this short seven-week course (30 hours study), you will be able to understand how emotions can be influenced by the thinking brain and the consequences learning can have in the classroom.
On completion of the course, you will be able to:
| | |
| --- | --- |
| • | Understand the impact of stress and trauma on the brain |
| • | Discuss pupils' emotions and the impact this can have on their behaviour |
| • | Identify ideas for developing relational based practice in your provision |
| • | Apply strategies to build pupils resources and resilience to manage their emotions |
| • | Promote a positive message around well-being and mental health, including how relationships and connections can be developed in a classroom environment to help support pupils with special education needs. |
| • | Support teaching assistant roles, as well as teachers, SENCOs, and other SEND professionals implement effective interventions strategies for pupils with Social, Emotional and Mental Health (SEMH) needs in classroom settings. |
How are the courses delivered?
The courses are delivered online which offers you the flexibility to organise your time to fit around your professional and personal commitments. It also saves you the time and expense of travel and classroom attendance
Each unit course requires between 20-30 hours of study over a seven-week period
There are set start and assignment submission dates but there is no 'live' delivery which requires you to be online at certain times
You will not require a student to work with for these unit courses
Am I eligible?
To qualify to study you should have two-three years relevant and recent experience (within the last 2-3 years) and be employed to work with primary, secondary, or adult learners in the UK or overseas.
CPD Standards Office Accreditation
Dyslexia Action has been successfully accredited as an online CPD provider by World-Leading CPD Accreditation organisation – The CPD Standards Office, and has received formal, independent CPD accreditation for its online short course units. Upon successful completion you will be issued with a Dyslexia Action Certificate. This certificate can subsequently be used within a formal CPD record for a professional body or employer.
Find out more about CPD and the Regulated Qualification Framework (RQF) here


How to register for the offer
Please follow these simple steps:
1. Choose your CPD unit*. A description and further information of qualifying* courses can be found here
2.To quick book a course, go to our book now page
3. Select the name and the date of the CPD unit you wish to study e.g., 13 July – the discount for July will be applied automatically on the registration form.
*Please note: the discount does not apply to the APC online short course (DAAPCONL)
Find out more about online courses and qualifications
You can contact us via email or call us on +44 (0)1784 222 304 to discuss any of our online training courses. If you have any questions or would like to discuss potential training for colleagues, please do get in touch.