Dyslexia Action is 50 years old!
This year, we a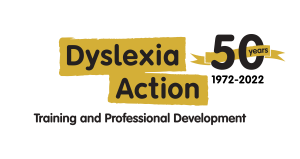 re celebrating 50 years of Dyslexia Action! The birth of Dyslexia Action is very much bound up with many notable events and people who were drivers for change in both the medical and educational arenas.
The Dyslexia Institute was founded by Wendy Fisher in 1972. Wendy and Kathleen Hickey (who at the time was appointed Director of Studies), set up the first Dyslexia Institute, developing a multisensory teaching method for children with dyslexia and literacy difficulties. Centres opened across the country in the 1970s, each offering assessment, training for teachers and twice weekly lessons for pupils with dyslexia.
The Dyslexia Guild was established in the spring of 1994. The Guild grew out of an alumni association of Dyslexia Institute Literacy Programme (DILP) specialist teachers, but soon was open to all with an interest in dyslexia. The Dyslexia Guild still runs today with a large network of members, aiming to promote discussion, information and research as well as keep members informed of developments in the field through publication and distribution.
In 2006, the Dyslexia Institute became Dyslexia Action to reflect the merger with the Hornsby International Dyslexia Centre and to encompass the purposeful and proactive nature of the organisations. Multisensory teaching and the Dyslexia Action Literacy Programme (DALP), updated in 2012, still form the cornerstone of qualification courses that Dyslexia Action offers for specialist teachers today. Dyslexia Action Training has now trained a multitude of teachers to become qualified specialists. Here's to continued success working together with teachers and schools, supporting them to help improve the lives of children with dyslexia and specific learning difficulties.
In 2017, Dyslexia Action Training became part of Real Group Ltd. We will be celebrating this milestone birthday within Real Group and across our sister companies, so keep an eye out for news across the year! If you are a Dyslexia Guild member, keep an eye out for the latest edition of the Dyslexia Review due towards the end of April, which will give an in-depth historical overview of Dyslexia Action over the years. Reflecting on the 50 year history of the company, we are in awe of the hard work and dedication of all the staff and supporters, also our amazing network of hardworking tutors and course delegates.