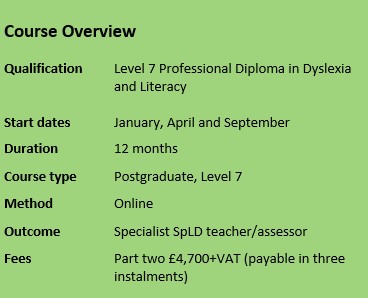 Discover the programme in more depth
Course Content - Modules, Learning Outcomes and University Credits
The Professional Diploma in Dyslexia comprises THREE modules at Level 7 which provides training as a specialist assessor (you must complete the modules in the sequence given) gaining 60 credits towards a Master's level (postgraduate) qualification with Middlesex University London. The three 20 credit modules are:
Module D: Assessment of Literacy Related Difficulties – 20 credits
Learning Outcomes – On successful completion of this module, students will be able to:
Critically evaluate current perspectives on the assessment of literacy-related difficulties and
reflect on their importance.
Critically examine the principles and practice of the psychometric assessment process
Demonstrate competence in test selection, administration, and scoring
Demonstrate competent interpretation of statistical evidence and the ability to link findings
to appropriate intervention strategies
Construct a professional assessment report for a learner with literacy difficulties and
demonstrate critical reflective practice
Module E: Assessment of Specific Learning Difficulty (Dyslexia) – 20 credits
Learning Outcomes – On successful completion of this module, students will be able to:
Critically evaluate the suitability of a range of tests for a particular assessment situation and
other knowledge that informs the assessment process and demonstrates how they apply to
work/practice
Systematically analyse information regarding the relevance to learning of the key findings of
a range of assessment tools and critically reflect on the ways in which engagement with
others contribute to the development of selected approaches
Demonstrate how the development of a professional assessment report for a learner with
literacy-related difficulties displays knowledge of the cognitive processing differences
associated with dyslexia and demonstrate own ability to coherently explain complex issues
to a work and academic audience.
Critically evaluate the role of own personal motivations, aspirations, and actions in the
context of strategic planning and management of professional development.
Module F: Research in Language and Learning – 20 credits
Learning Outcomes – On successful completion of this module, students will be able to:
Select and critically evaluate current theoretical perspectives on the study of and
assessment for dyslexia and the associated codes of professional practice and demonstrate
how they apply to work/practice.
Systematically analyse the steps in the research process in order to demonstrate
understanding of the methodological underpinnings that precede the execution of a project
plan, and critically reflect on the ways in which engagement with others contributes to the
development of the selected approach.
Demonstrate critical evaluation through the development of a preliminary literature review
and a project proposal which is designed to make changes to professional work and
practice, and persuasively communicate the outcomes to other practitioners, stakeholders
and academic audiences.
Critically evaluate own role in the strategic support of staff development needs with
reference to Special Educational Needs and Disability and reflect upon own ability to ensure
learning outcomes and learning experiences are enhanced and how the process has
changed and developed professional practice.
Supervised assessment is an essential part of Modules D and E. Participants are required to find learners who have not recently (within the past year) been assessed using the assessment tools within the module. Participants will be expected to select a learner in the age range in which they have trained, and teaching practice must be undertaken within a DfE registered or independent school and should be covered by the school DBS check and safeguarding arrangements (this does not apply to those based overseas although the school or college should be a registered organisation through the state authority). Further details can be found in the brochure above.
Please note:
After completion of Modules D, E and F in addition to being a holder of a Level 5 or Level 7 SpLD Teaching qualification you have eligibility to apply for an
Assessment Practising Certificate.
Progression - is this Diploma in Dyslexia part of a wider programme?
The Postgraduate Level programmes delivered by Dyslexia Action Training can lead to the award of credit points, as indicated, by Middlesex University.
The Dyslexia Action Professional Programme is eligible for Member (MDG) of The Dyslexia Guild. and accredited by the British Dyslexia Association (BDA).
Fees for the diploma in dyslexia are payable by module, one at a time, and must be paid in full before the start of the module or you will be referred to the next available start date.
Pay Online at the time of module registration (UK and Overseas):
* Please note there is a Pay later fee of £25 +VAT for those choosing not to pay online at time of registration. All monies must be received before the start of the modules.
Please ensure that you download and read the information in the Downloads section before applying.
To apply, please download and complete the application form then send it to pgmail@dyslexiaaction.org.uk
Entry 1st Sept 2020: Apply by 17 July 2020.
Entry Jan 2021: Apply by Nov 2020 applications will open August 2020.
Entry April 2021: Apply by Feb 2021 applications will open December 2020.
Depending on the modules you choose, you will need to be able to access one or two specific assessment tests to be able to complete the course.
Please note: we have no control over the rules that publishers use to decide who is eligible to buy their tests and we will need to follow their guidance when selling tests. We may need you to provide information regarding qualifications for us to check your eligibility.