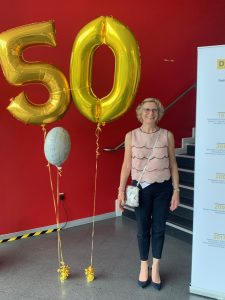 Theresa Gillbard is a Fellow of the Dyslexia Guild. With many years working in teacher and student training, Theresa has a long history with Dyslexia Action, and she was keen to share her thoughts about the celebration of 50 years.
"Over the years, DA has afforded a transformation of the term 'Dyslexia', from being considered a 'stigma' to a meaningful and now recognised, unique, neuro-diverse talent. Albeit frequently presenting challenges, the recognition of strengths far out ways the demeanours of weaknesses."
–Tess Gillbard FDG
We are celebrating the 50th anniversary of Dyslexia Action this year, and would like to explore the relationship you have with the organisation. Can we ask what you see as your relationship with us?
My relationship with Dyslexia Action is multifaceted. Having qualified in 1988, these 34 intervening years have really enabled me to create a feeling of self-belief in my own dyslexia. It has also generated confidence to pursue the strengths that I now realise I have and can pass on to others through new learning skills as well as strategies. There is a vital diversity in learning that is necessary for all dyslexic people whatever the age. Fifty years has really enabled a great deal of development, not just on the research side, but also from a personal point of view, it has given me the opportunity to pass on to others whether they be children or adults, providing a greater opportunity for future lives.
What is it about Dyslexia Action that makes you value us?

Dyslexia Action for me have always worked as a team .They have always wanted to develop greater knowledge. I have been fortunate in being appointed several times to new projects, one of which I clearly remember as being very exciting for me is the being involved in promoting 'Dyslexia-friendly' schools at the Bath Dyslexia Institute, as well as being involved in the teacher training aspect. I was selected to work on the achievability project, which was a new government initiative to provide funding for students with disabilities and for those who had never had the opportunity to go to university. I was part of a small group where we presented to identified dyslexic undergraduates, and trained them to become student ambassadors. These student ambassadors would go into schools to talk and encourage sixth formers to consider the opportunity of going to university. Later down the line, I was particularly thrilled to meet part of my team of University of Bristol undergrads who I recognised as tutoring at the Dyslexia Institute when they were younger!

Thereafter, I was offered the position of principal in Bristol, but took on principal designate as I had personal matters which meant that I needed to take on a lesser role. Through the Dyslexia Institute I was then appointed to a brand new role, which was never considered before, which was to be the first dyslexia study skills support tutor, at Bath Spa University. It was with the assistance of the Dyslexia Institute that I was appointed. It's carried me through to tutoring at a number of universities, Bath, Bristol, Gloucester…and during that time I became an assessor again through using my APC with the support of Dyslexia Action. Dyslexia Action was very helpful in terms of providing background information when I was privileged to carry out the role of the dyslexia advocate at a court hearing. So, historically Dyslexia Action has provided a wide variety of extensions of the term 'dyslexia' for me. I seemed to have moved during that 50 years through a whole realm of opportunities which in no way would I have been afforded had I not carried out my training with Dyslexia Action.
What would you say were the strengths of our courses?

I mentioned teamwork before, when I've attended a course, even the upgrade of my APC. As a dyslexic it has engendered confidence and belief for my own specific strengths to develop those new skills. I think when you're working with like-minded people, some of whom may be dyslexic, others not. Our main goal is to address the needs and identify the specific skills, strengths and weaknesses of the students with whom we are working with and supporting. It is hugely essential that Dyslexia Action carries this forward and continues to build that team notion, so that it is more of everyone working together which I feel is a huge value of being a part of Dyslexia Action.
Which of the Dyslexia Guild benefits do you think makes us stand out from other membership bodies?

I'm very aware that when when you're attending a conference, for example. The involvement of academics who cover a wide area of learning strategies is very important, but I think that's what Dyslexia Action does is build that unification to a degree that makes one feel that you have grasped all aspects to make it a whole. One would like to think based on previous conferences that you come away with a whole picture. Each person is contributing to that jigsaw and you come away with a far clearer picture of the intentions of those people and how we can plant that new learning into the work whereby we are supporting the children and adults.
What would you like to say about Dyslexia Action and our 50-year history?

In terms of the history of dyslexia, it has taken some time for schools and headteachers to allow the children to come out of school to attend the Dyslexia Institute because they didn't necessarily believe or understand dyslexia. The stigmatisation was hard to overcome, there have been court cases, where fortunately parents have won their case, but it's very sad that they had to take that route in the first place. In wanting support, it was a battle of trying to encourage the teachers to understand that the child is fine, they are very bright, they just learn slightly differently. In many ways, stigmatisation was far greater back then, but I think what's happened is that through Dyslexia Action, people have been brought to the forefront such as Albert Einstein, Kara Tointon or Richard Branson, people who are extremely smart and successful, with a diagnosis of dyslexia. Dyslexia Action more than anyone has actually helped promote a greater understanding and appreciation of the diversity that dyslexic people provide and can influence other people. And that's why I mentioned social pedagogy, because I do believe that there are areas where children aren't able to receive that support. I have been a tutor on the masters course at Bath Spa training teachers to be dyslexia qualified teachers, so it has come full circle. I just hope that we can just respect and and love each other's uniqueness and diversity in a way that the 50 years of Dyslexia Action has done through understanding, empathy and promotion.
Would you recommend others to book courses with Dyslexia Action or to join The Dyslexia Guild?

I recommend Dyslexia Action and I wholeheartedly do and have done. I also feel that the constant research that's being carried out is great because it is continually evolving, and the more we can involve ourselves in sharing those new findings and new ideas, the more we can support all of our dyslexics, but primarily starting with the younger ones. One of my aims, which I constantly comment on if I'm working with a child in a school or even independently – we need to support the government to help implement changes in the national curriculum. I think nothing's been more proven than during the COVID situation where some of our dyslexic children have been able to recreate their own talents and uniqueness at home. Social pedagogy is hugely important, and I am excited to see the development of future programmes.
Is there anything we could do better or developments you would like to see for the future?

In terms of helping to implement changes in the national curriculum, that to me is the main focus, to create a better balance for our children's learning. I am still tutoring children and it is sadly quite common still that there are those that are not being recognised. I think diversity is becoming far more accepted, but the issues in relation to dyslexia are sometimes hidden because many of our children are very bright children and so already by age 7 they're creating their own strategies in order to manage their learning. But the support for these children is lacking, there needs to be a continuation of training in more diverse areas.