---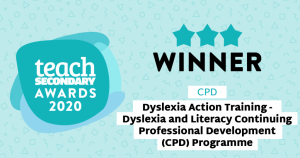 ---
The Teach Company Awards
The Teach Company Awards are designed to help teachers seek the best educational resources. The finalists and winners are decided by a panel of education experts, based on how the entries score in key areas such as originality and educational impact.
Here is what one of the judges had to say:
"This specialist online training is comprehensive, flexible, and suited to educators across all settings. Although focused on dyslexia support and building literacy, the theory and practical skills encourage good pedagogical practice which should benefit all learners. The use of one-to-one guidance from tutors, and the inclusion of collective contributions so that participants are able to learn from peers, provide opportunities to meet individual needs targeted to specific educational contexts." Jill Berry Teach Secondary Awards judge for the CPD category.
Learn more about The Teach Company Awards here.
---
Accredited dyslexia training provider for over 40 years
For 40 years, Dyslexia Action Training has been supporting online Continuing Professional Development (CPD) training for international schools as well as UK-based educators.
We are the largest dyslexia-focused training provider in the UK and have successfully delivered more than 15,000 online courses to education professionals since 2010. Dyslexia Action Training is an accredited training provider of courses designed and delivered to support professionals working with individuals with dyslexia and specific learning difficulties.
Study wherever you are, whenever you want*. Learn at your own pace with our flexible online courses, delivered via Moodle – the market-leading virtual learning environment. *Please note our online courses have set start and assignment dates that you must adhere to.
Tutor-supported online training. We continue to support all our delegates throughout the learning experience with an online tutor and course forums. Our courses are created and delivered by experts who share your passion to transform lives.
---
What delegates think about our CPD Programme
"The support offered here is excellent, the tutors are always available to help and I would highly recommend you study with Dyslexia Action"
"This is an excellent short CPD course for me and I have enjoyed every single minute of it. I am very pleased that the course runs during the summer period, as this is the only time I can do any course to improve my skills. The tutors are very supportive."
"Excellent well structured and supported courses! Thank you!"
"The course provided a practical solution to CPD when other courses were impossible due to cost, time and location"
---
Learn more about our Dyslexia and Literacy Programme
Our CPD short courses run six times a year with start dates in September, November, January, March, May, and July.
If you would like to learn more about this programme, do not hesitate to email us or call us on +44(0) 1784 222304.